Coronavirus is here to stay for a considerable time. I got infected, and God Forbid I am sorry, to bluntly say this that you may be the next target. During my Home Isolation, I felt the need for certain appliances which I believe that one should be ready with for the isolation period. Right from monitoring your illness to providing you with some entertainment, these appliances will prove to be your true friend in those 17 lonely days.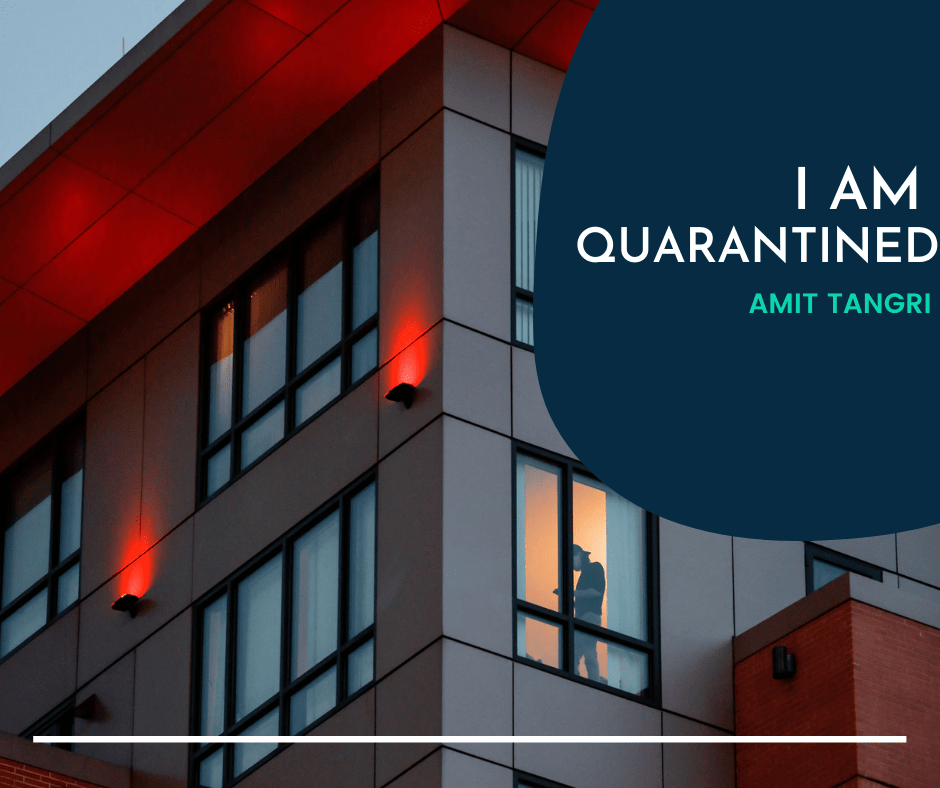 Probably, you must be having some of these appliances at home. But in the scenario where few members are in home isolation and the rest are not, you need to have a separate kit to prevent the spread of the virus to other members.
Rules for Home Isolation
90% of cases of the virus have mild symptoms that can be treated and handled at home with proper quarantine precautions. Different countries have different laws to tackle the spread of Coronavirus. Whatever the regulations are, for Home Isolation you need to follow common instructions worldwide.
During home isolation, you'll need to stay away from family members and pets. Wear a mask if you are near others. Avoid sharing dishes, glasses, bedding, and other household items. Use a separate bedroom and bathroom if possible. If your symptoms get worse, contact your doctor for medical advice. Follow recommendations from your doctor and local health department about when you can end isolation. These measures can help limit the spread of COVID-19.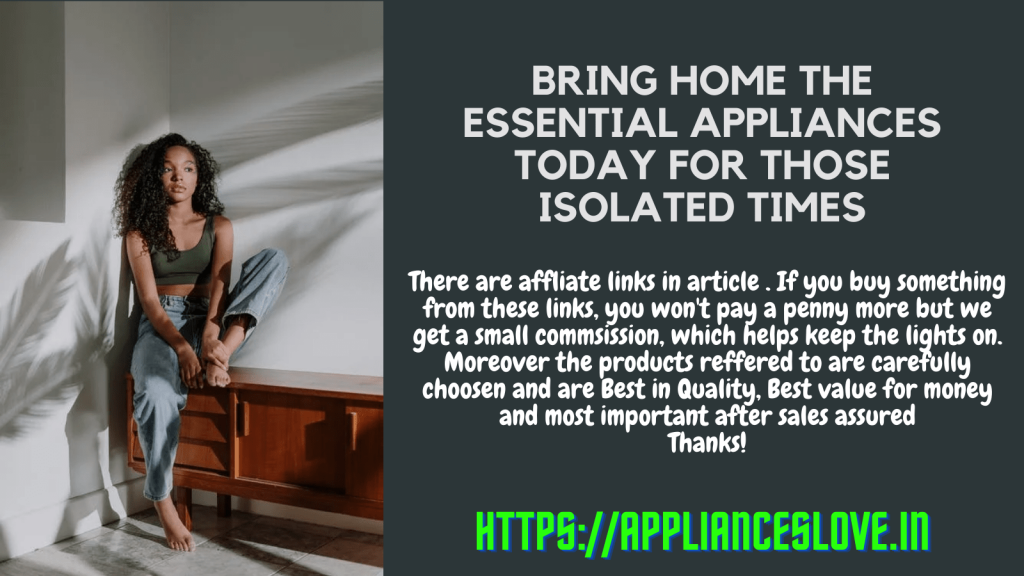 Your best buddies during home isolation
I have categorized the appliances under following heads
Medical Home Appliances.
Kitchen Appliances.
Multi-Utility Appliances
Personal Hygiene Appliances
1. Medical Home Isolation Appliances
These appliances basically are used to monitor the Vital signs of the body. It is essential to keep a daily periodic track of these vital signs while in home isolation. In case there is a deviation, you need to consult the doctor immediately. Lets study these devices.
1A.

Thermometer

:
For people who have mild symptoms or are still asymptomatic but fear having been exposure to the virus, the advice given by doctors is that they need to measure their temperature at least twice a day and monitor it to help determine if they are getting better or worse. Most of the patients wake up with no fever but eventually they get mild fever between 4pm to 9pm. Doctors advice to take temperatures at the fixed times to monitor the exact condition. Anything below 100.5 degrees Fahrenheit is safe during home isolation.
Best Buys
1B

OXIMETER
Oxygen saturation (SpO2) measures how much oxygen blood carries in comparison to its full capacity. It is an estimation of how much oxygen the hemoglobin in your blood contains compared to how much it could contain. Pulse oximetry devices represent this measurement using a simple percentage.
So if your red blood cells contain 95% oxygenated and 5% non-oxygenated hemoglobin, your SpO2 would be 95%.
Anything between 95% to 100% is safe and good.
Values between 92% and 94% are considered low and indicate the need for supplemental oxygen. This condition is often referred to as hypoxemia, and its symptoms include severe shortness of breath.
Values below 92% should promptly be referred for further investigation for long- term Oxygen therapy.
Best Buys
2. Kitchen Utility Home Isolation Appliances
These appliances will help you out with your diet needs. Doctors recommend to intake Hot beverages and food. As per WHO publication it is suggested to ensure an adequate intake of fiber. Aim to take wholegrains foods that include oats, brown pasta and rice, quinoa and whole-wheat bread and wraps, rather than refined grain foods such as white pasta and rice, and white bread.
2A.

Electric Multi Utility Kettle

:
It is recommended to take Boiled Water, Ayurvedic Tea and milk at the regular intervals. With normal electric Kettle there is a restriction that you can only boil water and not milk. So why I am suggesting to use Multi Utility kettle is because it will help you in preparing various items and in small quantity as per your convenience. Besides making tea, boiling milk and water, you can also boil vegetables, cook pasta, rice and eggs instantly.
Best Buys
You can also pick the best electric kettle in India that suits you or Electric Kettles with temperature control in US/ Canada region
2A. Panini Grill

Sandwich Maker
You can change the taste by experimenting with different sandwiches. Besides sandwiches, you can Grill cheese or vegetables or prepare steak. Please note that I am referring to the Multi Grill Sandwich maker instead of a normal one since this opens up at 180 degrees and can act as an electric cooking plate. It has a Teflon coating and an oil collector tray.
Best Buys
2C.

Induction Cooker
Induction Stoves are actually all time useful product. You must posses one in case the entire cooking is in your hands. Just switch this on over a levelled table and cook as per your convenience. I am lucky in this aspect since rest of my family was able to serve me the cooked food. In case you want to have a deeper insight on how to use the Induction cooker and how you can save money in case you change your cooking habit to induction stove just click on respective italics to take you on the respective posts.
Best Buys
3. Multi-utility Home Isolation Appliances
These are the most interesting appliances in the entire section. These are portable in nature but serve you with multiple tasks that you really require in Home Isolation.
3A .Hand-Held steamer
Before I take you to how this appliance will help you out during home isolation, you need to be very careful in the selection of the product. Though I will be recommending, but still if you are going for some other products, choose the one that has a selection option for garment steaming and face steamer since there is a setting for steam out-throw pressure.
It will basically serve you four functions:
Steam Inhaler: While steam Inhalation does not kill the virus, but yes it certainly eases the symptoms like congestion and clears the respiratory tract. It is recommended to take twice or thrice per day. I usually take it before going to sleep to prevent breathing uneasiness.
Face Steamer: The fever and consequently the recommended medicines that you take will result in dryness of the skin. You can daily do Face steaming through this device for just 5 mins and then give a light massage with hands. Besides giving you the "feel-good " feeling, it will result in increasing the blood circulation and will de-stress you.
Garment Steaming: Since there will be no help so you will wash your clothes on your own. After drying the main problem will come in arranging for the iron board and common iron of the house. So this device gives you a solution for ironing your clothes. You just need to hang them on a hanger and do this vertically with steam. The only challenge you will face in handheld steamers is the small capacity of the water container. You need to refill after steam ironing of saying one piece of cloth, but still ok since you are not doing it for the entire household.
Steam Sanitization: There would be certain places or articles that you can not avoid to touch and are more prone to get infectious like door handles or edges, utensils. taps etc. On a regular basis, you need to steam sanitize these every day. This product will help you to disinfect the articles.
Best Buys
3B. Echo Dot (3rd gen)
It has numerous functions to do it for you. It is a voice recognition software smart appliance Your voice is your command for this appliance. During home isolation scenario when you really do not want to get out of bed this simple device would help you out. Let us count its benefits:
This version comes with a digital clock. This LED displays the time, outdoor temperature, and timer.
You can set alarms and reminders. Reminders for taking measurements of taking vital signs, Medicines, Steam, etc.
You can use it for calling and messaging without touching your phone. It's very useful during home isolation like in an emergency you just need to say that- "Alexa please call Dad". and it will straight away dial.
It communicates News, Weather, Sports score, Shares Market, and trends.
It can answer your questions. For Example: " Alexa, what is 478 multiplied by 61″ or something like " Alexa, What is the gold rate for today".
It plays music as per your choice.
It controls your smart appliances like a lamp, fan, AC.
Best Buys
4. Personal care and Hygiene Home Isolation Appliances
These appliances are not only essential but will keep you boosted with your good looks and De-stress facto.
4A Personal Care Products
Do you know that the demand for Personal care products like Clippers, Shaver, and Hairdryers was at peak during the lockdown period as compared to any other appliances in the industry? These were the 10 most searched products on Google.
Best Buys– Men's Category
Best Buys– Women's Category
4B Aqua Foot Spa Massager
This is a foot comforter and massager. With warm water and rollers, it gives a perfect relaxation experience. It releases the tension formed around the tight muscles and tendons and allows blood to flow and circulate smoothly to your other bodily organs and brain.
Best Buys
Non-Appliance products recommendation for Home Isolation
Following products does not belong to Appliance category. But through my experience in home isolation, I feel that one should be ready to avoid confusion and for last moment rush. What I personally believe that one should keep the following items separately as a buffer.
You should be ready with a separate pen and a writing pad to note down the vital signs.
You should have a pack of Garbage disposable bags. This is important to dispose off the waste separately to prevent contamination and spread. I am personally using Presto bags
You should stock Toiletries, 3- layer Face Masks, Sanitary Napkins, Sanitizer, and Cotton separately as a kit for isolation needs of 17 days.
An extension wire cord is required due to an increase in power points since extra points would be required for appliances to work. Also, it will help you to bring chargers for your mobile and laptops near to you since you will be using them excessively.
Home Isolation Blues: Activities that you can indulge in to fight isolation blues
So, if you got stuck up and has nothing to do much, watch the following video that gives you the way to keep yourself engaged.
For those who love books…..
As per many experts, diseases and Pandemics around the world is a result of the Imbalance between Nature, Human, and Civilisation. During your home isolation period connect yourself with nature through the work of art books by Richard Louv. Best known for his work The Last Child in the Woods is really a nature lover who gives you Vitamin N( N stands for Nature) to relieve you of the stress. Must Read the latest Book Our Wild Calling
To conclude
We all are at war. Lets keep our ammunition ready.
Incase you require some more information or think of any other appliance that may be useful during these times, pls write to me in comments below
Let's Face it, Fight it and Finish it !!
For more information on appliances that will trend in 2021, read… .5 Key Examples of Home Appliances will trend in 2021