How does an Air Fryer work or does an Air Fryer work? Do Air Fryers actually fry or is an air fryer like a microwave? How does an air fryer work without oil? These are few questions that come to your mind when you look for a healthy option and do not want to compromise over the taste of fried food. The article will explain the functioning of Air Fryer and also take you to some of the best buys while decoding the Air Fryer purchase.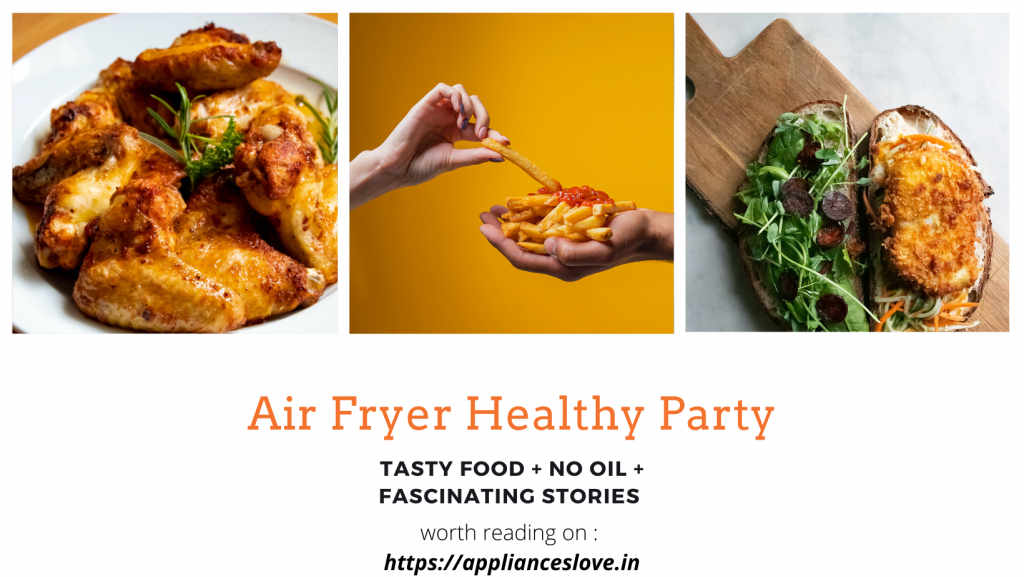 What is frying and how does an air fryer work on this principle
Frying
In this process of cooking, firstly, liquid fat such as oil is heated to a temperature of 375 degrees Celsius. Secondly, the food, at a normal temperature, is instantly dropped in the hot oil. As a result, due to the sudden transition of temperature on the outer surface of food, the crust dehydrates. Meanwhile, due to the Maillard principle, the chemical reaction between amino acid and reducing sugar gives the food a hard crust, browny color, and moreover a distinctive flavor.
Does an air fryer work on this principle?
The air fryer uses the same principle of frying, however, the medium of transferring the heat now is air in place of oil. A considerable amount of hot air is gushed with high speed and circulated within an air-tight closed chamber where food is placed. This high-speed convection of hot air is termed "Rapid Air Technology" by its inventor company "Phillips". In conclusion, this technology assists to produce the same effects as deep frying and attain the necessary temperature for the Maillard reaction to occur. Thus, giving a resultant food with hard crust texture, browny color, and above all, the same distinctive taste.
Oil consumption
By now, you must have understood that how an air fryer works without oil. However, this will not get you rid of oil in totality. Even Phillips declares it to be a 94% reduction in fat. This implies that some amount of oil is required, however, the quantity is too little than what is used in deep frying. But it all varies from food to food. Some food like turkey or chicken breast, requires a thin brushing over the surface, whereas, potatoes require few oil drops sprinkled all over. Moreover, food like fish doesn't require any oil since its body already has plenty of it. You may refer to respective recipes for more information related to oil consumption.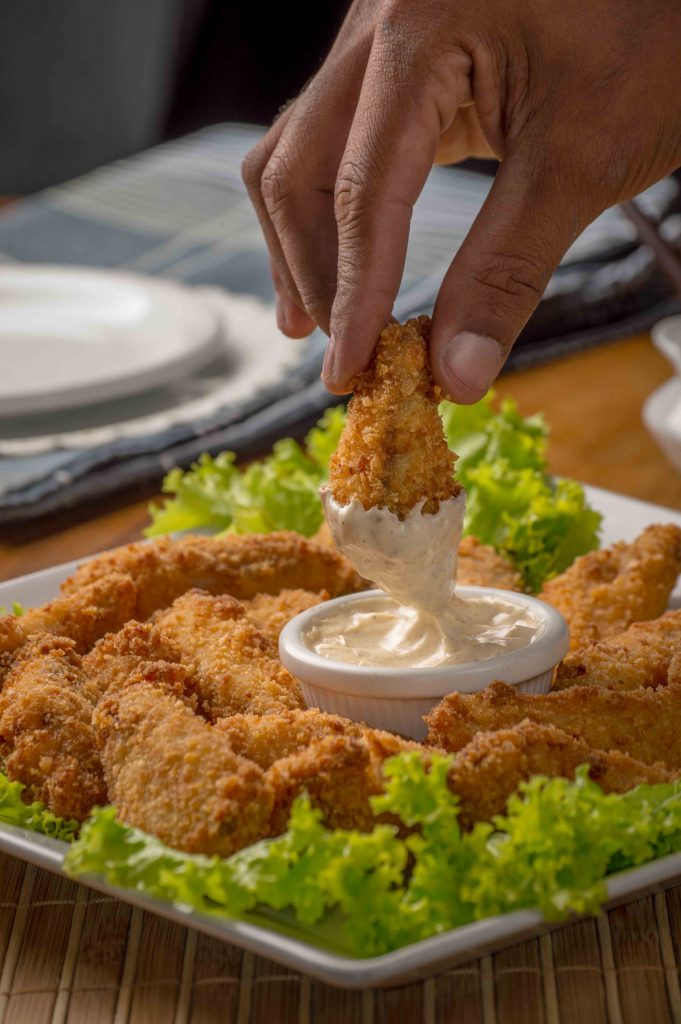 Is an Air Fryer like a Microwave
Principle speaking there is a vast difference between how an Air Fryer and Microwave works.
Air Fryer: As explained above, it heats the food through the convection of high-speed hot air. So the flow of heat in the food is from the outer crust to the inside of the food mass. Thus, the outer surface of the food heats up before the inner mass. The same is explained through the diagram below.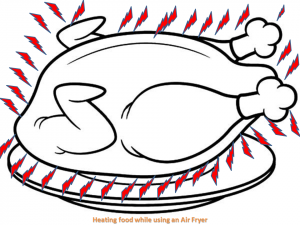 Microwave: The microwave heats up the food by giving oscillations to water molecules present in the food. The oscillating molecules produce the heat and eventually, it escapes from the food. Thus, if we see the heat flow, it is just opposite to that of an Air Fryer. The heat flows from the inner mass to the outer surface of the food. The same is explained through the diagram below. In other words, the microwave does not give you a frying expierence.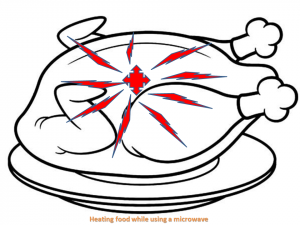 An insight into how does an air fryer work and different heat flow in Microwaves will show that you can never get an exact taste of fried or hard crust food through the microwave. So the question – "Is an air fryer like a microwave?" stands false.
Components of an Air Fryer
The components of air fryer can be classified into two broad categories
User Accessible Parts
Internal components
User Accessible Parts
Pan: It is sometimes known as an oil collector also. The food basket can be inserted into the pan in most the cases
Food basket or a food separator tray: This is where you keep your food for frying
Temperature Knob or button: To adjust the desired temperature
Timer knob or button: To set the desired time.
Preset functions: Digital models have this feature. There are few programmed pre-set modes that can be chosen as per the food. These are basically the combination of temperature and timer programmed as per the type of dish.
Internal Components
Every Air Fryer essentially has these components in common. A general understanding of these internal parts will assist you in knowing how does an air fryer work. To know more about these components read how to fix air fryer at home
Fan: Fan helps in the convection of air present inside the food chamber of the Air Fryer.
Element: There is a heating element just beneath the fan The element helps in heating the air to the desired temperature.
Control PCB: The electronic circuit controls the programming of Air Fryers. Different variants have different sets of circuits. These may be touch panels or digital displays with thermostats and temperature settings.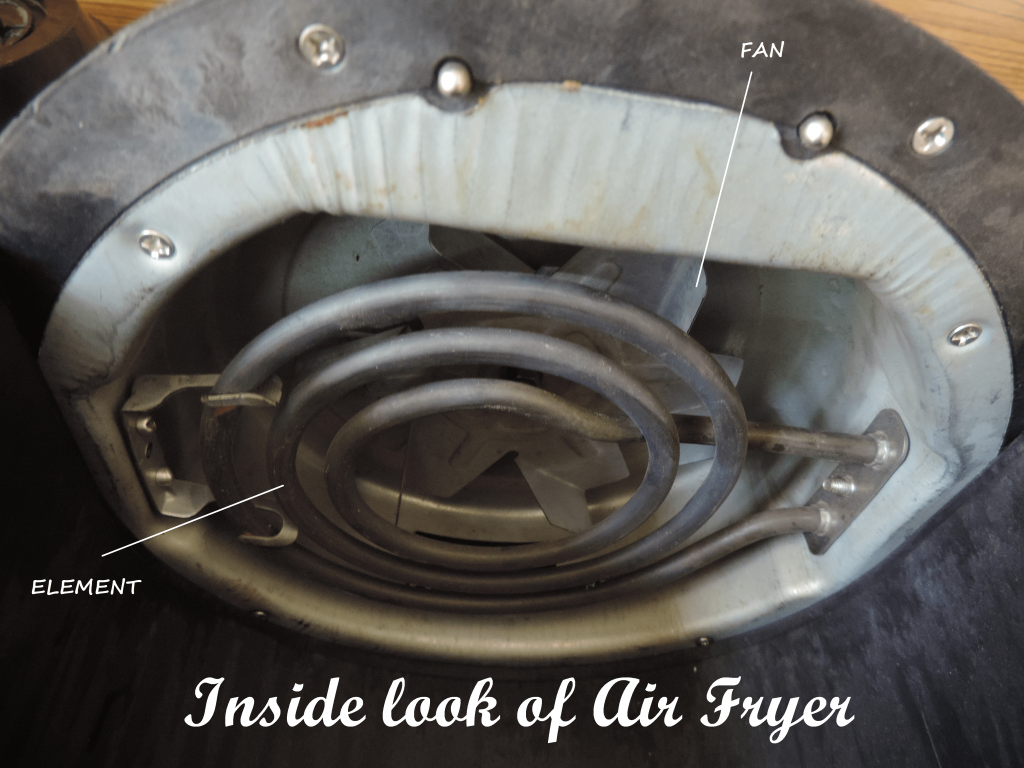 How to make an Air Fryer work
Since you are pretty sure that how does an air fryer work, now let's see how to make it work. Air Fryers, in fact, are simple machines to operate.
Following are the 10 easy steps to operate an Air Fryer
Place the air fryer on the Stable, Horizontal, and Levelled surface with a gap of at least 25 inches from the wall on all three sides.
Insert the power plug in the wall outlet and switch "ON" the power.
Press the power ON/OFF button on the appliance to switch it "ON". This is only available in digital models.
Press the "Manual" button to choose your own settings. You can do it through a control dial or push/ touch buttons.
Set the temperature to 200 degrees Celsius and the timer to 5 minutes. The appliance will start operation once the cooking time is confirmed. This is the pre-heat mode. Some appliances have a separate button for pre-heat.
Post-pre-heat, open the drawer by pulling the handle. Put ingredients as per the capacity in the food basket. Sprinkle oil if required by the dish. Slide the drawer back in its place.
To select the preset menu turn the control dial (or press the desired touch button) to the concerned preset or in the case of analog models to the desired temperature.
Select the timer. Once you select this, the appliance will start operating.
After every 7-8 minutes open the drawer and shake the ingredients within the pan or change the side of food to evenly distribute the heat on all sides to give a uniform effect.
Timer bell will conclude the cooking. Open the drawer and lift the food basket out of the pan. Empty the basket content in a plate. Take out a basket with care since Pan could have oil residues in it which is hot. Air Fryer on the other hand is ready for re-use directly without pre-heat.
Air Fryer Recipes
JoyOuce is a manufacturer of world-class Air Fryers. Following image directs you to their website's recipes section. Here you can find how to prepare scrumptious dishes of your own in Air Fryer.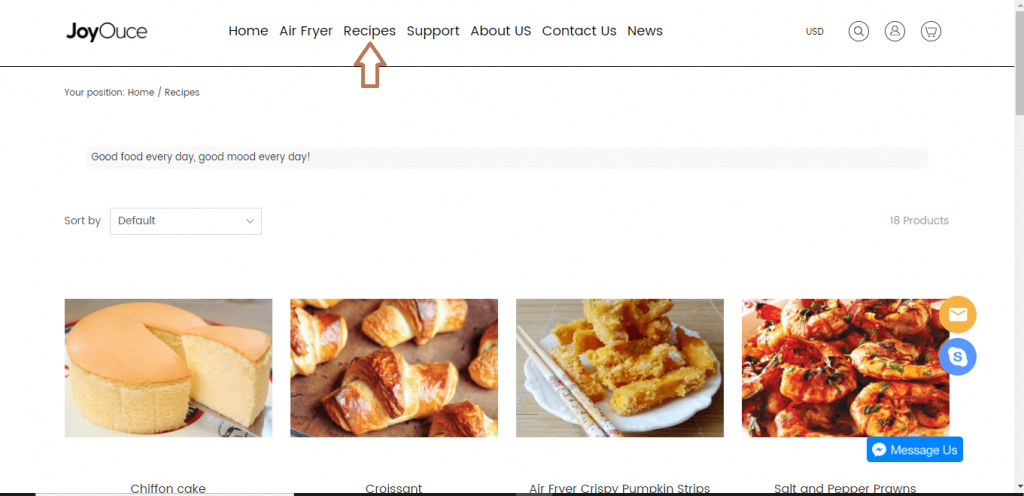 After an insight into how does an air fryer work, here are few buying tips.
Now that you are convinced that Air fryer is a healthy option for delicious fried food, you should further look at some of the features and characteristics that distinguish one air fryer from other. You must be aware that besides differences among the brands and models, there is also a differentiation on the basis of a country/ region. The major reason being different countries have different sets of power supply so the product is designed as per input power credentials. Moreover, eating habits also affect the design and capacity of the product. Following are few models that are the best fit for each selected region.
Disclosure: I only recommend products I would use myself and are appealing to the masses. My website is supported by my readers. This post on "how does an air fryer work" contains retail sales links. There would be no additional cost to you if you purchase any products through these links, but yes, I may earn a small commission out of it.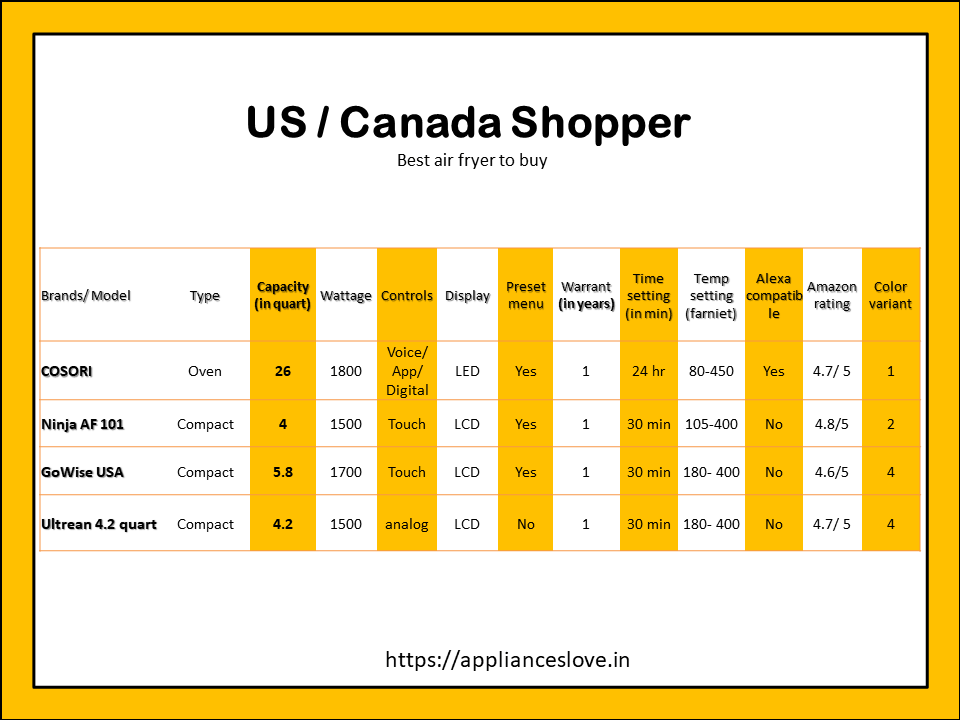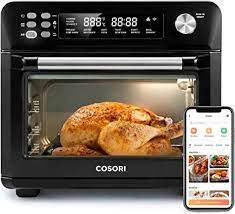 COSORI 12-in-1 Air Fryer Toaster Combo Mothers Day Gifts, Countertop Dehydrator for Chicken, Pizza, and Cookies, Recipes & Accessories Included, Work with Alexa, 25L, Smart Oven-Matte Black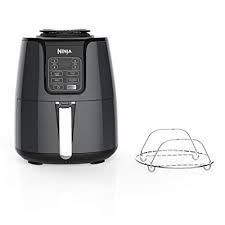 Ninja Air Fryer, 1550-Watt Programmable Base for Air Frying, Roasting, Reheating & Dehydrating with 4-Quart Ceramic Coated Basket (AF101), Black/Gray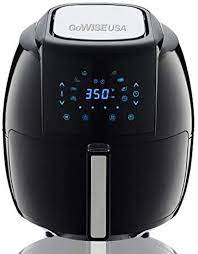 GoWISE USA 1700-Watt 5.8-QT 8-in-1 Digital Air Fryer with Recipe Book, Black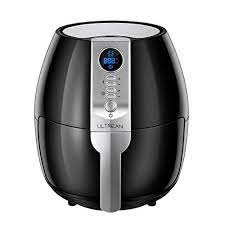 Ultrean Air Fryer, 4.2 Quart (4 Liter) Electric Hot Air Fryers Oven Oilless Cooker with LCD Digital Screen and Nonstick Frying Pot, ETL/UL Certified,1-Year Warranty,1500W (Black)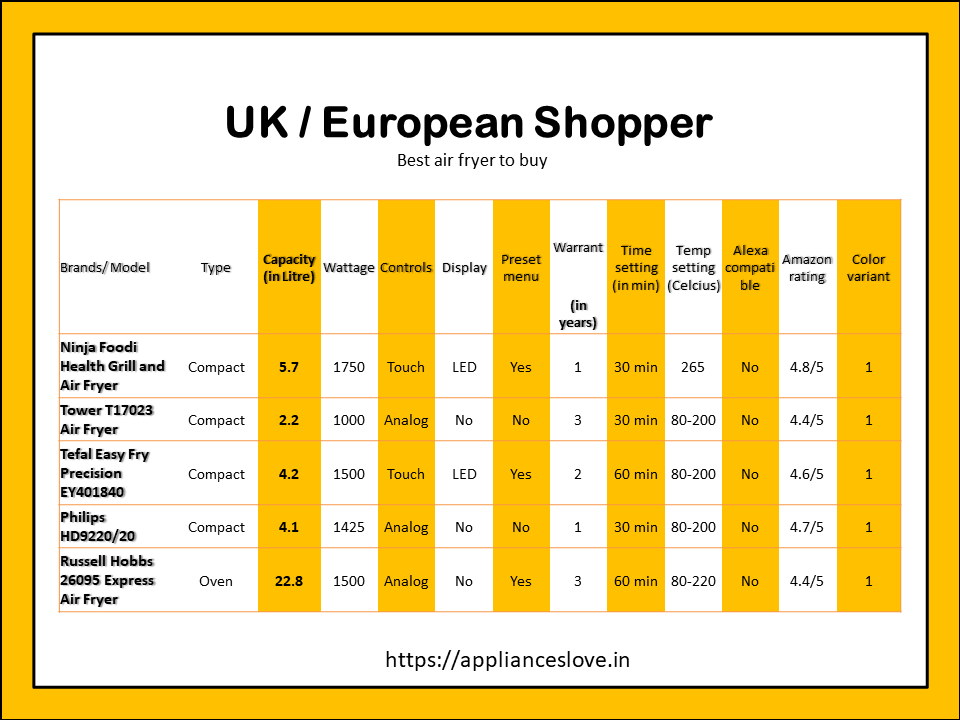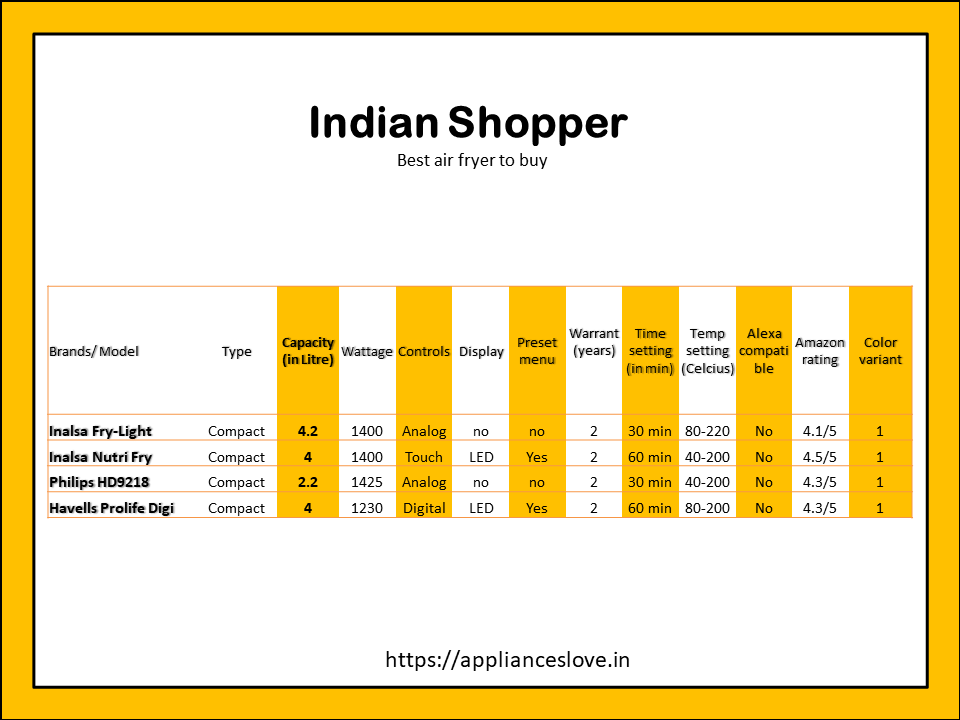 For the best discounts in India, refer to the following links.
The Best Purchases On Amazon
And if you are really serious about gifting this product. Checkout our section on Home appliances as gift
Components of differentiation
Type: This is the foremost thing you should decide upon. You may judge the type of air fryers as per your family size or frequency of use. The capacity of the air fryer oven is much more as compared to the

compact one

and so is the wattage. Additionally, you can select the higher range of temperature in the case of the Oven. This implies that you can cook a larger quantity of food and faster as compared to the Compact type. On the other hand, the oven takes more space and is priced high. However, the principle of how does an air fryer work remains the same for both oven and compact types
Capacity: Next comes capacity. This mostly depends on your family size. For instance, a nuclear family may do with compact type on the other hand for larger families, an oven would be the better choice. The oven comes in a capacity of 20 liters (21 quarts) or more. Whereas in the case of compact types you get more choices. The range varies from 2.2 liters (2.3 quarts) to 5.5 liters ( 5.8 quarts). Ninja Air fryers are designed to provide you with the highest capacity. In fact, they have a very innovative product line like a double-basket food tray.
Looks: This is totally a consumer piece of preference. After all, Air Fryer is a thing of beauty that provides aesthetic pleasure in your kitchen. However, this feature is not related to how does an air fryer work principally. You may go for either an analog or a digital model. Likewise, you may pick LED or LCD displays or at the most with no displays at all. Additionally, you may also choose from

different colors and designs

as per your preference.
Ease of use and control: You may go in for analog or digital models at your convenience. Air Fryers also comes with some preset menus where the temperature and timing settings are already programmed as per the dish requirements. This will help you out to cook your favorite dishes without manually bothering for settings. Besides, air fryers have also entered the world of IoT. Many brands around the world are working in this field and coming up with newer versions with apps or voice control through Amazon Alexa or Google assistant. This will surely ease the control of Air Fryers.
Meanwhile, manufacturers are working hard to convert the air fryers to a multi-functional appliance in order to provide more differentiation. For instance, new varieties of air fryer machines are coming with the in-built dehydrator function. Refer to Dehydrated Food Benefits and how to prepare one, for more details on the subject.
Further, the wattage, temperature settings, timer range, and warranty are more or less the same across all the variants and brands in a particular region. My piece of advice is that since air fryers are electro-mechanical devices you should go in for the established brands in your region with good after-sales service and spares.
Following video gives you an experience of design and color varieties in Air Fryers
Some Air Fryer facts:
The Global Air Fryer market is growing at a CAGR of 7.1% with Asia- Pacific region expecting the highest growth. COVID is one of the major factors for this impulse. Australia, the USA, Ireland, New Zealand, and the UK are the top five countries where people searched the most for Air Fryers in 2020. To know more on Air Fryers and 4 other trending products that will rock in the future read 5 Key Examples of Home Appliances will trend in 2021.
The Corona Times
In this era of the corona, people are avoiding going to restaurants, So they are finding an option in their house itself with appliances like air fryer or electric Kettles. Moreover, in the case someone is isolated, he can avoid going to the kitchen and prepare the same food and beverages within his room. Thus, others in the house can be prevented from getting infections. Read more about what else can be done in those tough times on Home Isolation: Must-have right appliances for self-help.
Summary of how does an air fryer work
Well, I hope the blog answers your queries related to Air Fryers? It must have given the clarity that how Air Fryers are different, and yes, useful cooking appliance in your house. Do write to me in the comments, in case you require any additional information regarding Air Fryer or support in buying a new one in your city. I will be more than happy to help you out.
Next: How To Fix Air Fryer At Home In Easy Steps
Thanks for reading, Keep Safe.